Save a child's heart is a humanitarian organisation based in Israel with the mission of improving the quality of cardiac care for children in developing countries. Jenny, the sister of Rebecca, Board Advisor at Innpact, volunteers there on a regular basis.
Through its grant, Innpact enabled the organisation to perform heart surgery to save a child. On the picture, you will see the mosaic made by the children and Mosaic with Mia, an organisation that brings colours where it can be useful.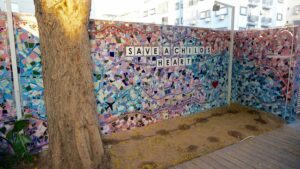 Website: https://www.saveachildsheart.org/?fbclid=IwAR0ljk3gu6vMaA5Dzl-WGo5fjwMc0D_4InYh34e6eeOUCO66mm1KDF4tOx8
The Save a child's heart project is supported in the context of our Social Contract, which is part and parcel of our Corporate Social Responsibility.
With a purpose to foster a meaningful link between our company, our employees and society, we contribute part of our resources in a responsible way to projects that create opportunities in our local community and in target countries. Our Social Contract is a way for us to support fantastic initiatives that we would normally not be a part of in our core business. Our support is provided by way of pro bono consulting and by financial support to projects where we can make a positive impact. The Social Contract is steered by our Social Contract Committee, composed of dedicated Innpact staff members.
For more information about our societal engagement, see https://innpact.com/about-us/our-engagement/